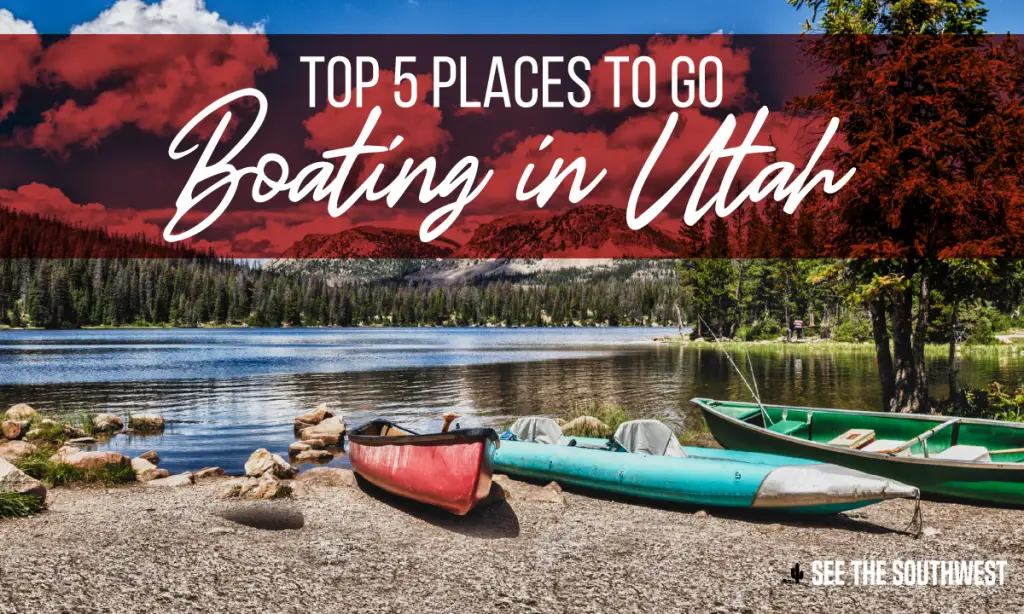 You would think that the Great Salt Lake would be the best place in Utah to go boating, and of course, it is. With all the small islands dotting the waters, boaters can pull into secluded coves and explore. It is particular popular with sailboats. The Great Salt Lake has some of the most noted beaches in Utah. The water is so buoyant that people easily float. bobbing like corks on water that is much saltier than the ocean. Freshwater showers are available in many location to rinse off after swimming. However, since it is salt water, there are no fish species in the lake, and our criteria for the top boating spots not only included great boating, but fishing. In addition, the salt is extremely hard on boating equipment and motors causing corrosion if not immediately dealt with. Therefore, while we give the Great Salt Lake an honorable mention, it doesn't make the list of the Top 5 places to go boating in Utah.
Utah Lake
Located just south of Salt Lake City, Utah Lake is 24 miles in length, 13 miles wide and only 10-12 feet deep. Warm water species such as walleye, channel catfish, perch, crappie, and largemouth and white bass flourish in these waters. Fed by the Provo River, which happens to be one of the best fishing spots in the state, the lake has lovely views of the Wasatch Mountain Range. There are several points of entry for boats onto the lake, from private marinas to access from Utah Lake State Park.
Lake Powell
This is the most popular boating destination in the West. Lake Powell stretches 186 miles from southeastern Utah into northern Arizona. Because it is so large, boaters can easily find deserted coves to anchor in, to swim, to fish or to just enjoy the gorgeous sun-washed sandstone cliffs and sparkling blue waters. Also because it is so large, there are literally dozens of marinas and places to put into the water, from Page, Arizona, to the Glen Canyon National Recreation Area. There are beautiful beaches all along the shores, and the lake is an anglers dream with striped, small and largemouth bass, walleye, crappie, channel catfish and bluegill in great abundance.
Strawberry Reservoir
Located just east of Provo, Utah, Strawberry Lake is Utah's primary cold water fishery with a maximum depth of 200 feet. The lake receives as much fishing time as Lake Powell and anglers are drawn here by the consistently large size of the rainbow and cutthroat trout. It is also known for the kokanee salmon. There are four paved boat ramps located at Strawberry Bay Marina, Renegade, Soldier Creek Marina and Aspen. The Strawberry Bay and Soldier Creek Recreation complexes offer campground loops, sanitary dump stations, day use areas, group pavilions and marina stores
Bear Lake
Located in northern Utah, on the border with Idaho, Bear Lake State Park is a boater's paradise. Created by an earthquake that dammed up a deep valley, the lake is 20 miles long, 8 miles wide, 208 feet deep and covers 112 square miles. The brilliant blue-green waters (caused by dissolved calcium carbonates, as well as the sandy beaches and blue skies, lure visitors to play, fish, boat and camp. Bear Lake State Park offers a full service marina, camping, hiking, and great nature watching.
Flaming Gorge Reservoir
On the border of Utah and Wyoming, this 91 mile long reservoir is so named for the flaming red rock cliffs that soar above the blue green jewel toned waters. Flaming Gorge National Recreation Area completely encompasses the lake. Five marinas along the 360 miles of lakeshore offer all kinds of opportunities to get out on the lake and enjoy. Houseboats and boat rentals are readily available, plus the Green River offers some dynamite river rafting and canoeing options. Rental cabins, lodges, hotels and camping spots abound in the park, so you won't have trouble finding a place to stay. For anglers, this cold water fishery is home to German Brown, lake, rainbow trout, as well as kokanee salmon, tiger trout, small and largemouth bass, carp, channel catfish and burbot.