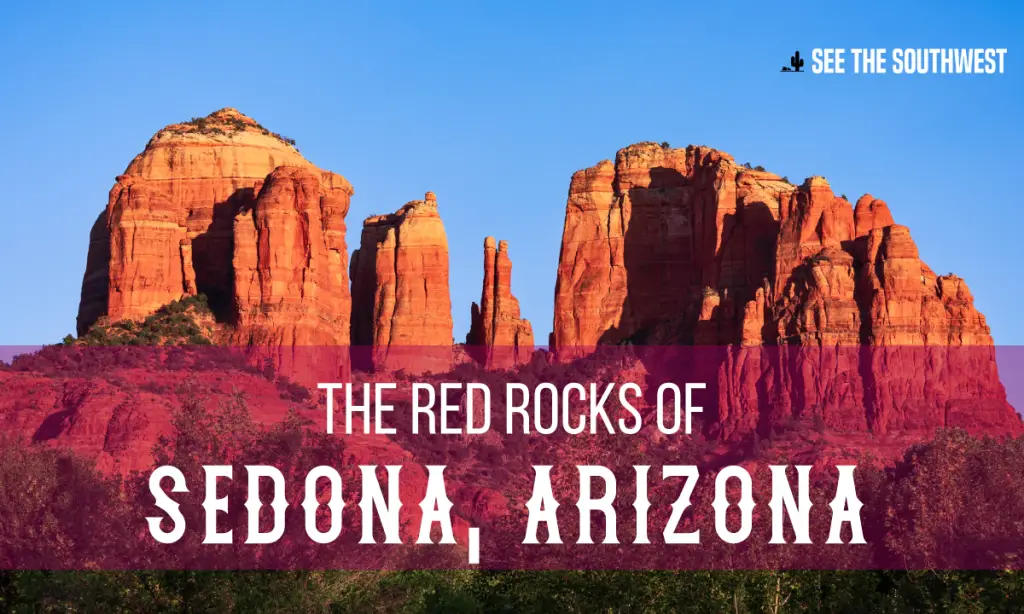 Sedona, Arizona, is a unique place filled with beauty and tranquility. With the awe-inspiring red rock formations, a mini Grand Canyon called Oak Creek Canyon, and a thousand things to see and do, it is a great family destination to get out and enjoy the outdoors. Located in the high desert, just below the rim of the Colorado Plateau, it is blessed with four mild seasons, plenty of sunshine and fresh air.
Geologically, the area we now call Sedona, Arizona, began about 500 million years ago. For about 300 million years, the land alternated between coastal plains and ocean bottom. Layers of sediments and sand built up over that time forming the banding in the rock. About 65 million years ago, the land was uplifted and volcanic activity caused the formation of the Verde Valley, creating the Mogollon Rim. About 3 million years ago, the Colorado Plateau uplifted. Since then, wind, rain and snowmelt have created Oak Creek Canyon and exposed the layers of sediment (like the Schnebly Hill Formation sandstone) to shape the spectacular red rock formations like Coffepot, Cathedral, Bell Rock and Thunder Mountain, that make Sedona unique and absolutely breathtaking!
Four thousand years ago, Native Americans roamed the area, hunting and gathering, but not really staying in one location for long. Between 900 and 1350 AD, the Sinagua began building pueblos and cliff houses. Archeologist know that these people were proficient in farming, had an understanding of astronomy, and made baskets, pottery and jewelry, and established trade routes with the peoples of the Pacific coast, Mexico and Central America. You can still see the remnants of this civilization at ruins like Tuzigoot, Montezuma's Castle and Montezuma's Well (all less than an hour drive from Sedona).
The first European exploration into the area took place in 1583, when Antonio de Espejo came searching for gold. This area was in the hands of Spain until Mexico gained its independence in 1821. With the treaty of Guadalupe Hidalgo in 1848, the Arizona Territory became part of the United States. The first Anglo settler in Sedona was John James Thompson, who arrived in 1876, and was lucky enough to stumble upon an abandoned Yavapai Indian garden, still bearing crops.
Since that time, Sedona has almost always been known as a tourist destination. Soldiers from Camp Verde came to enjoy the beauty and cooler temperatures. As early as 1895, a fellow by the name of Lou Thomas turned Bear Howard's cabin into a two-story hunting & fishing lodge. Novelist Zane Grey was inspired to write his book Call of the Canyon there. The book was turned into the first movie ever filmed in Sedona. Miners and smelters from Clarkdale and Jerome escaped to Sedona to fish and hunt.
Sedona got its name from one of the most prominent settler families in the area. In 1899, Theodore Carlton (Carl or "T.C.") Schnebly, and his wife, Sedona Miller Schnebly, joined T.C.'s brother, Ellsworth (D.E.), in the Oak Creek Area. T.C. established a general store and hotel and organized the first post office. He suggested the names Oak Creek Crossing and Schnebly Station to the postmaster general who rejected them as being too long. Ellsworth suggested his brother submit Sedona's name for the honor and it was accepted. Believe it or not, the town of Sedona wasn't actually incorporated and made official until 1988!
Today, folks from all over the world come to visit the Red Rock wonder of Sedona. There are a thousand things to do and see in Sedona — from hiking to camping, fishing to outdoor adventure tours, shopping, dining, spas, golf, tennis, horseback riding, art galleries and spiritual adventures — you'll never be bored.
Other attractions in the area include:
Top 10 Things To Do In Sedona
Tuzigoot National Monument
Top 1o Things To Do In Flagstaff
City of Sedona
102 Roadrunner Drive
Sedona, AZ  86336
(928) 204-7127