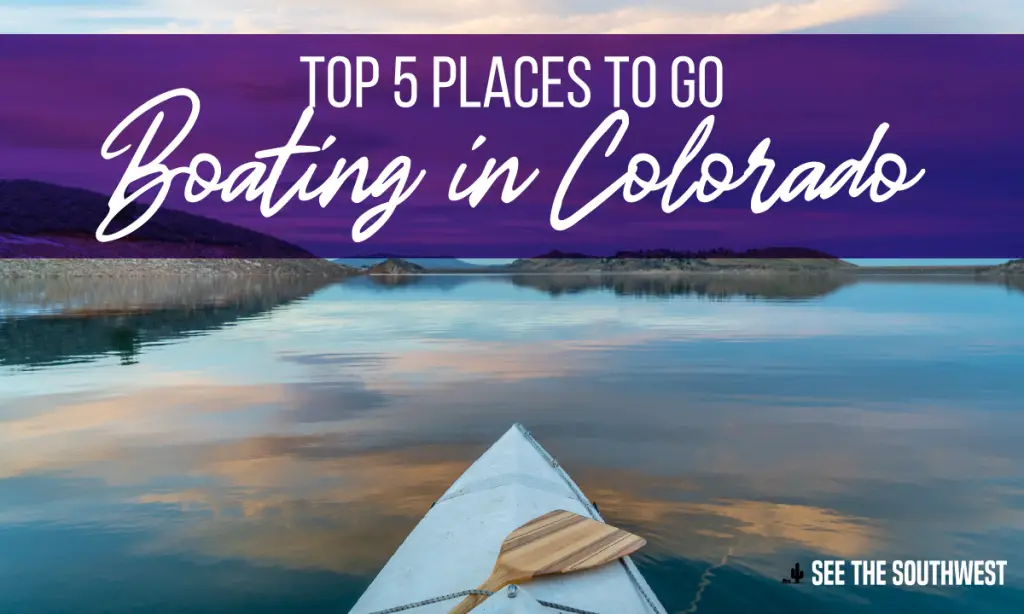 Looking for a place to cool off this summer? Colorado has mountain lakes, reservoirs and rivers beyond compare. Here are our top five picks for great boating experiences in Colorado.
Grand Lake
Grand Lake is nestled in Rocky Mountain National Park, and offers soaring mountain views and stunning scenery. It is Colorado's largest and deepest natural lake, and is part of the headwaters of the Colorado River. The full service Highland Marina offers groceries, cold beer, fishing, camping and boating supplies, as well as a place to put your boat in the water. The fishing in the lake is well … grand! Species include large and smallmouth bass, white bass, spotted bass, walleye, crappie, catfish and lake trout.
Blue Mesa
Blue Mesa Reservoir is located between Montrose and Gunnison, Colorado. The 9,000 acre lake is nestled against the beauty of the West Elk Wilderness Area and is part of the The blue waters of the reservoir meet soaring peaks and clear blue skies. This is a fantastic place for outdoor recreations, fishing and watersports. The lake is known for its trophy fish including lake trout. Two full service marinas are available — Elk Creek Marina (with Pappy's restaurant) and Lake Fork Marina.
John Martin Reservoir
Often referred to as a sapphire nestled on the great plains, John Martin Reservoir is a paradise for water enthusiasts. Located on the open plains, the winds blow down from the mountains and across the lake, making for spectacular wind water sports. The warm days and cool waters create ideal conditions for boating, swimming and waterskiing. Fishing in the lake is pretty amazing as well, with walleye, saugeye, bass, wiper, crappie, perch and catfish enough to tempt an angler. Because it is off the beaten path, the lake is uncrowded making ideal conditions for water sports.
Navajo Lake State Park
Located in southwestern Colorado (and into parts of northwestern New Mexico) Navajo Lake State Park offer fantastic boating, fishing and watersport opportunities. Two shoreline areas near the dam in New Mexico are part of the Navajo Lake State Park, featuring over 200 camping and picnic sites. With 15,000 surface acres (35 miles long with over 150 miles of public shoreline), it is a spectacular place to beat the heat. Water temperatures rise into the comfortable 80s so it's a great place to go swimming. The depth of the lake (at 396 feet) also makes it one of the best fishing spots in the state — fish species include northern pike, large and smallmouth bass, brown and rainbow trout, channel catfish, crappie, kokanee salmon and various sunfish.
Ridgeway Lake State Park

Located just south of Ouray, Colorado, Ridgeway Lake State Park has stunning views of the Uncompahgre National Forest and the San Juan Mountain. The area offers multiple outdoor recreation opportunities including camping, hiking, birding, wildlife viewing and of course, fishing, watersports and boating. A fishing pier is located on the Uncompahgre River, just off the paved River Walk Trail. While there is no marina, the boat ramp is generally opens May 15 through September 15. Other things to do on the Western Slope.