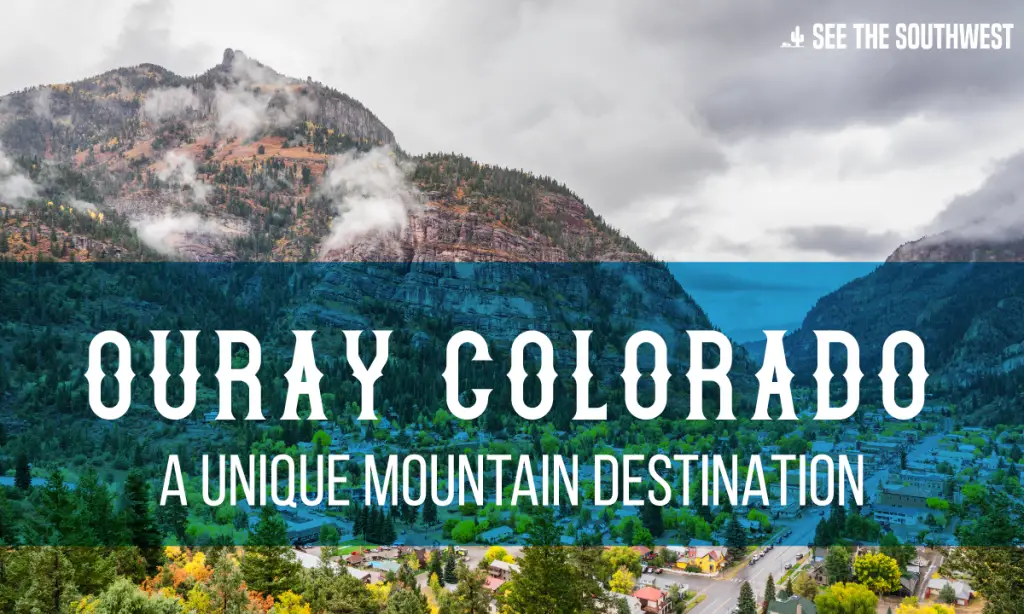 Nestled in some of the most rugged and towering peaks in the Rocky Mountains, Ouray, Colorado is a unique vacation destination. As though some giant had scooped a huge bowl in the earth, the town of Ouray, sits at the bottom of 1,300-foot-tall red rock cliffs, that seemingly enclose and protect this intimate community from the outside world.
Ouray has been described as the Switzerland of America. It is certainly a fantastic destination to launch outdoor adventures. Whether you prefer to hike, backpack, camp, bike, 4-wheel, take photos or just relax and enjoy, there's a place to do that in or near Ouray. Best of all, there's no bad season to visit Ouray. Late Spring, when the wildflowers are in bloom is one fantastic time to visit, as is the Fall, when the Aspen trees are turning color. Mild temperatures also make it a great destination during the summer months. In the winter, snow piles deep in the valley and blankets the small town in silence.
Ouray began life as a mining town in 1876. By 1880, it has over 2,600 residents. The town included a school, several churches, a hospital, restaurants, saloons and brothels, hardware, clothing and supply stores for the miners, hotels and boarding houses. By 1893, the price of silver dropped drastically and the town looked like it would go under. Luckily, one of the richest mines in Colorado was discovered. The Camp Bird Mine was a gold mine, and since the price of gold remained high, the town stayed alive and well.
Towns like Ouray, Durango, Silverton and Telluride sprang up overnight, thanks to the mining frenzy. Thousands of men (and women) from all over the world came looking for their fortune. Only a handful found it, but every single one helped to shape the unique character of these small, unique little towns.
Today, nearly two-thirds of the old Victorian structure built in the gold and silver rush days are still standing, fully restored, in use and very, very charming. Many of the old stores along Main Street now offer boutique shopping including arts and crafts, home furnishings, apparel, souvenirs and more. A very popular destination is Mouses Chocolate Inc., which makes handmade chocolates and dynamite milkshakes. When you get tired of shopping or sightseeing, there are plenty of places to stop for a bite to eat, everything from southwestern cuisine to Beef Wellington. For instance, how can you resist stopping and eating at a place that's called The Bistro at Billy Goat Gruff's! And once you've worn yourself out, there are plenty of charming places to rest. From standard motels to charming bed and breakfasts, historic hotels, to cabins and condos, the choice of lodging in Ouray is up to you.
A great way to spend a day is to drive the old mountain trails and see ghost towns along with the old mining buildings. One tour you shouldn't miss is a trip into the Bachelor-Syracuse Mine. At the mine entrance you can enjoy a great "miner's breakfast", take a gold panning class, and actually ride deep into the mine on the old ore trestle tracks. Guides will share the 120 years of mining history and lore of the area.
Other attractions in the area include:
Silver Jack Reservoir
The Last Resting Place of Rupe and Prunes
Durango & Silverton Narrow Gauge Railway
Top 5 Things To Do In Durango