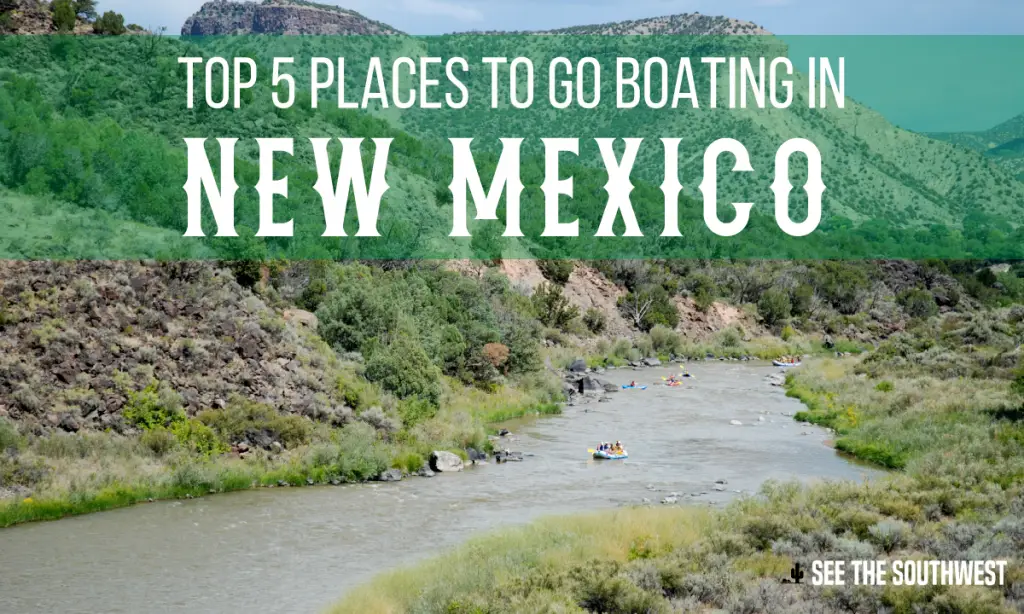 New Mexico doesn't have a lot of lakes or shoreline, but there are still some wonderful little getaway spots tucked here and there in the state for avid boater. Here are our top 5 picks for great water getaways.
1. Elephant Butte Reservoir
Located on the Rio Grande Valley, 40-mile long Elephant Butte Reservoir offers all sorts of water sports and boating opportunities. The lake is named for its elephant shaped mountain in its center. With lovely sand beaches and quiet coves, this is a lovely place to retreat from the summer heat. For anglers, the lake offers black and white bass, catfish, pike or crappie. The Rio Grande River that empties into the reservoir is home to trophy sized rainbow trout.
2. Brantley Reservoir
Just north of Carlsbad, New Mexico, is lovely Brantley Reservoir and Brantley Lake State Park. The 4,000 acres lake is stocked with with bass, walleye, catfish, bluegill, and crappie, making it a popular spot for anglers. The warm desert sandstone cradles the lake and its wind ruffled waters. With two campgrounds and picnic areas, boat ramp and more, Brantley Lake is a terrific getaway spot.
3. Conchas Lake
The secluded coves, sandy beaches and hidden canyons make Conchas Lake a great summer destination. The 26-mile long lake offers full boating access with nine public boat ramps, as well as picnicking, camping, hiking, biking and more. The marina has a restaurant, store and lodging. For anglers, the lake is stocked with walleye.
4. Navajo Lake
Navajo Lake and Navajo Lake State Park, on the border between Colorado and New Mexico, offers great water sports, boating, jet skiing, scuba diving and more. The 35-mile long lake is nestled in the rim-rock country and offers 150 miles of public shoreline. Summer daytime temperatures range from the 80s to the 90s, while night time temps drop to a cool 50 or 60 degrees. For anglers, fish species include northern pike, large and smallmouth bass, brown and rainbow trout, channel catfish, crappie, kokanee salmon and various sunfish. The marina near the dam boasts full services, while Navajo Lake State Park is the second largest park in the state and has plenty of places to camp, hike and enjoy nature.
5. Ute Lake
Ute Lake and Ute Lake State Park are located just outside of Logan, New Mexico. The 8,200-acre lake is fed by the Canadian River. At 13-miles long and a mile wide, the lake offers plenty of room to sail, water ski, paddle fish and enjoy the cool breezes.
For anglers, the lake is stocked with walleye, bass, catfish and crappie. The many secluded inlets and covers make it a wonderful place to hike, camp, horseback ride or just enjoy nature.