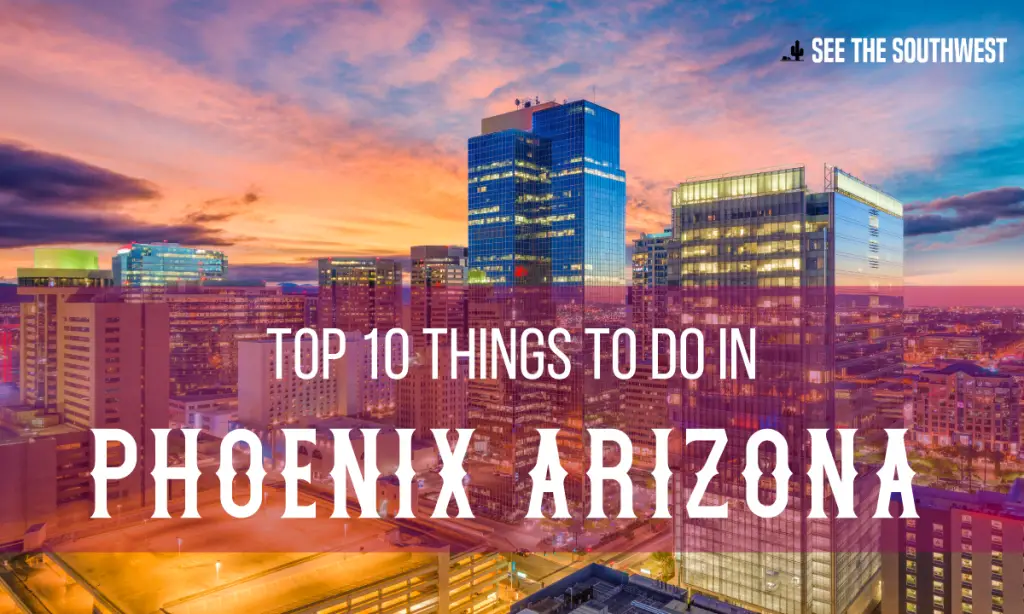 For more than 1,000 years, the Hohokam peoples occupied the land that would become Phoenix and The Valley of the Sun. These amazing people created 135 miles of irrigation canals, growing crops and building a great civilization. Their irrigation channels were eventually modernized and adapted by several companies in Phoenix to continue carrying water to the valley.
Today, Phoenix and the Valley of the Sun is America's winter playground. Temperatures range in the 60s and 70s during the day, with crystal, clear blue skies and cooler night. In addition, Phoenix is some off the worlds finest resorts, for a good choice of hotels with discount prices, visit Where to stay in Phoenix for more information. There are literally hundreds of things to do in Phoenix, see and experience in the area, but here are our Top 10 Things to Do in Phoenix, Arizona in no particular order.
1. Hiking
The first and second largest city parks in the world are located in the Valley of Sun: South Mountain Park and Preserve and Phoenix Mountain Preserves (a collection of several large and many smaller parks throughout the city). Together, these parks set aside roughly 46,000 acres of land with over 200 hiking, biking, horseback riding and mountain trails. You can select hikes that range from easy strolls to exciting and strenuous climbs of Camelback Mountain, Piestewa Peak or South Mountain. If you don't feel like climbing, you can drive up South Mountain to Dobbins Point for an outstanding view of the valley.
Voted one of the top five zoos for children, the Phoenix Zoo is nestled within the buttes of Papago Park on 125 acres of beautiful and varied landscapes. It is home to more than 1,300 animals from around the globe — including more than 200 endangered or threatened species. Designed around four distinct trails — Africa, Tropics, Children's and Arizona — the Phoenix Zoo offers amazing experiences and opportunities to see, and learn about, some of the planet's most wonderful creatures.
3. Golf, Golf and more Golf
There are approximately 240 golf courses in and around the Valley of the Sun, many designed by PGA champions, so all you have to do is pick the location and difficulty and tee off amidst the grandeur of the Sonoran Desert. Here is just one option to consider: Set against the McDowell Mountains, the Wildfire Golf Club is an oasis providing two championship layouts. Playing up to 7,145 yards from the longest tee, the classic-designed Palmer Signature Course provides expansive fairways and large, rolling greens. Co-designed by Nick Faldo and Brian Curley, the Faldo Course offers players a tougher challenge with strategically placed bunkers lurking on tight fairways. The course plays over 6,846 yards from the longest tee for a 71 par.
The Wildlife World Aquarium's contains 75 indoor exhibits featuring fish, mammals, birds, invertebrates, amphibians and reptiles. Each building on the campus has a different title and theme: The Diversity of Life in Water; The Wild and The Wonderful; and Predators. Notable aquarium species include: Asian Small-Clawed Otters, black tip reef sharks, black-footed penguins, eels, stingrays. Visitors are permitted to touch and feed, seahorses, flamingos, barracuda, jellyfish, Nile and dwarf crocodiles. There are nearly 150 new aquatic and semi-aquatic species in all. Outdoor exhibits include a log flume ride, monkey and lemure exhibits and more.
5. Desert Botanical Garden
The Desert Botanical Garden in Phoenix is proud to offer more than 20,000 desert plants, with emphasis on those native to the Sonoran Desert of Arizona. The internationally acclaimed collection provides a delight for the senses and spirit as well as insight into fragile ecosystems. A lovely 1 mile stroll opens a whole world of desert flora and fauna, as Gambel Quail and dozens of lizard species make the garden home.
6. Shopping
Downtown Scottsdale offers some of the finest shopping in the country, with everything from unique boutiques, galleries and outstanding restaurants, to the huge Scottsdale Fashion Square Mall, anchored by Macy's, Neiman Marcus and Barney's New York.
Frank Lloyd Wright began building this desert masterpiece in 1937 as his personal winter home, studio and architectural campus. Located on the beautiful Sonoran desert in the foothills of the McDowell Mountains in northeast Scottsdale, the site offers a broad range of guided public tours. Visitors experience firsthand Wright's brilliant ability to integrate indoor and outdoor spaces.
Each spring, the teams of the Cactus League play about a month of Spring Training Baseball. This is where the managers take a look at the players and determine the final roster based on their performance. The great thing about Spring Training games is that you'll get to see many of your favorite players during one game, at great prices. The seating is up close and personal, so you'll catch all the action. Spring Training team include the Cleveland Indians, Chicago White Sox, Chicago Cubs, Kansas City Royals, Los Angeles Angels, Los Angeles Dodgers, Milwaukee Brewers, Oakland Athletics, San Diego Padres, San Francisco Giants, Seattle Mariners and Texas Rangers.
9. Dolly Steamboat
Known as the Junior Grand Canyon of Arizona, Canyon Lake flows between towering cliffs with secluded coves and hidden caverns. It is not uncommon to see bighorn sheep, coyote, deer, bobcats, mountain lions, as well as bald eagles and hawks from the decks of the steamboat, so be sure to bring your camera and binoculars. The Dolly Steamboat offers a variety of cruises, from educational to dinner cruises that allow you to experience the wild canyon in all its glory.