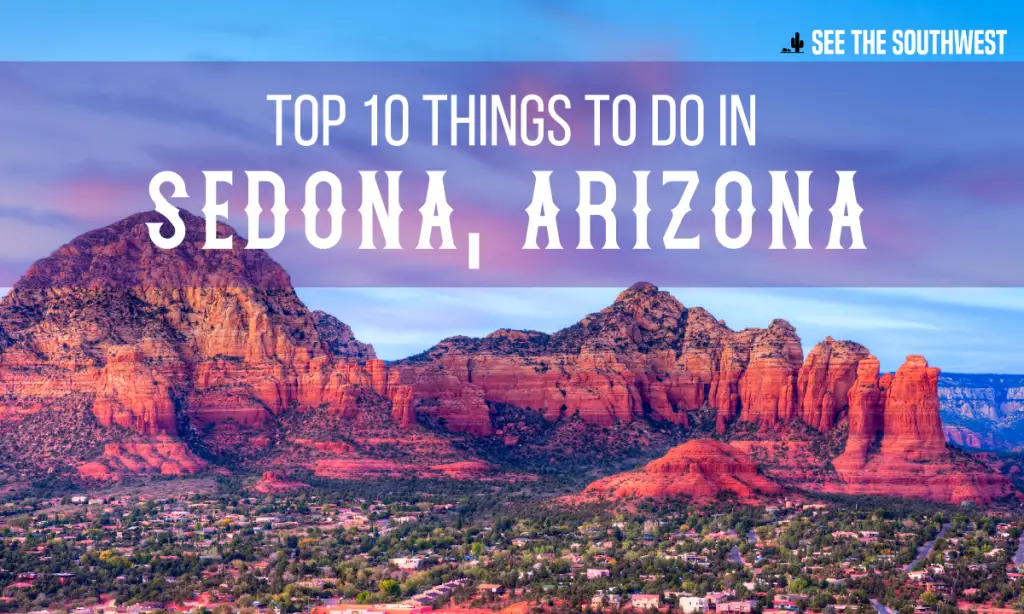 Sedona, Arizona, draws visitors from around the world who are enchanted by the beauty of this rugged country. Sedona has a mild climate during all four seasons of the year, including plenty of huge blue skies and amazing starry nights. It also include fantastic hiking and biking; world-class golf and tennis; land tours; and aerial adventures in planes, helicopters and balloons. So it's is easy to see why people return to Sedona year after year. Here are my top 10 picks (in no particular order except for #1) for what you should see and do while visiting Sedona and the Red Rock country.
1. SCENERY

One of the main reasons people visit Sedona is the see the amazing red rock formations that characterize the area and give it the name Red Rock country. You can do that in a number of ways. By vehicle, by foot, by bike, by air or by horseback. Dozens of tour companies offer exciting trips to explore the Sedona area or you can just pick up a hiking pass and a trail map and set out on foot to explore for yourself. I will mention one of my favorites — Arizona Rocks Tours — because there is no set time table and the guides have taken dozens of classes in history, geology, Native American culture and more so they make the area come to life for you.
2. SHOPPING

All I can say about the shopping in Sedona is WOW! Sedona is a town teeming with artists and artisans; boutiques, galleries and one-of-a-kind shops. There is so much to discover—from Native American crafts and art, to all sorts of handmade items, jewelry, home furnishings, clothing, artwork and so much more. Tlaquepaque Arts and Crafts Village, Hillside Sedona and Sedona Center are my favorite places to go for the sheers concentration of shops and galleries, but there are boutiques and galleries tucked all over town and I love finding new places each time I visit.
3. DINING

Sedona caters to an International clientele, so you can find just about any kind of food you want, including many vegetarian and organic choices. From Thai to Southwest, Chinese to Cowboy cooking, you'll enjoy great food and have an awesome view from almost every place you visit in Sedona. My two personal favorite places are Shugrue's Hillside Grill (the view is amazing and everything on the menu is great) and the Oak Creek Brewery (try the pizza and a house specialty beer that is brewed onsite). However, I have friends who swear by a couple dozen other restaurants, bistros, cafes, bars and grills in the area. Whatever your taste, you are in luck in Sedona, because you are going to find place you will love to chow down!
4. WINE COUNTRY TOURS

Sedona is at the center of vine country. Over the last 10-15 years, wine producers have discovered how well the thicker skinned red grapes grow in the area (cabernets, syrah, petite sirah, Grenache and mourvedre do particularly well here or so say the vintners). A dozen or more vineyards allow you stop in, take a tour and spend a happy hour tasting of the grape. My personal favorites are Alcantara Vineyards, Oak Creek Vineyards & Winery and Page Spring Cellars.
5. SLIDE ROCK STATE PARK

Slide Rock State Park was originally the Pendley Homestead, a 43-acre historical apple farm located in Oak Creek Canyon. Pendley established a unique irrigation system still in use by the park today that allowed his homestead to succeed where so many others failed. The park is named after the famous Slide Rock, a stretch of slippery creek bottom adjacent to the homestead. It's great fun to slide down the slick natural water chute, hike, have a picnic or just sun along the creek edge in the sun and listen to the water gurgle.
6. CHAPEL OF THE HOLY CROSS

Chapel of the Holy Cross is an inspired example of architecture and rises 200 feet above the ground, nestled between two of the red rock formations high on a hillside overlooking Sedona. It was designed and commissioned by sculptor Marguerite Brunswig Staude, student of Frank Lloyd Wright. A part of the Roman Catholic Diocese of Phoenix and Saint John Vianney Parish of Sedona, Arizona, the chapel is worth a stop to marvel at the view and enjoy the peace you feel as soon as you pass through the doors.
7. OAK CREEK CANYON

State Route 89A drops from Flagstaff down into Sedona through what many people refer to as a miniature Grand Canyon, known for its colorful rocks and unique formations. It's a spectacular scenic drive, and there are plenty of places to hike, swim, fish or just stop to enjoy the view.
8. NATIVE AMERICAN CULTURE

The area around Sedona and throughout the Verde Valley was once home to Native American peoples — the Anasazi, Hohokam, Hopi and Sinagua. Abandoned pueblos, rock art, irrigation ditches and more are the most visible remnants of tribes who once roamed the area. Within a hour drive of Sedona are the ruins of Tuzigoot, Montezuma's Castle, and Montezuma's Well — all three amazing sites will help you learn the history and daily lifestyle of these ancient and respected people.
9. THE SPIRITUAL SIDE

Sedona has a world-wide reputation as power spot for vortex sites and place of spiritual growth and healing. A vortex is swirling pool of energy, generally created when two ley lines (also known as meridian lines that cover the earth) intersect. The energy is either positively or negatively charged. Positive charged vortexes have feminine attributes; nurturing, calming and tranquility: negative vortexes are masculine, and are active and energizing. There are fifteen vortex sites within a ten mile radius of Sedona. There are several tour companies that offer a variety of ceremonies and meditation opportunities and will take you to experience the energy for yourself.
Living close to the land also inspires a holistic approach to health. Numerous alternative healers are available to help guide to the things you desire, include health, wealth and happiness. From Reiki to crystals, psychics to meditation, you'll find it here!
10. SPA CENTRAL

The beauty and natural tranquility of Sedona make it a popular destination for healing, relaxation and health. So naturally, Sedona has some of the finest spas in the world. You can enjoy a massage, body wrap, facial and about 1,000 other different types of treatments that will make your cares melt away.
Other attractions in the area include:
Flagstaff, Arizona
Walnut Canyon National Monument
Sunset Crater Volcano National Monument
Wupatki National Monument