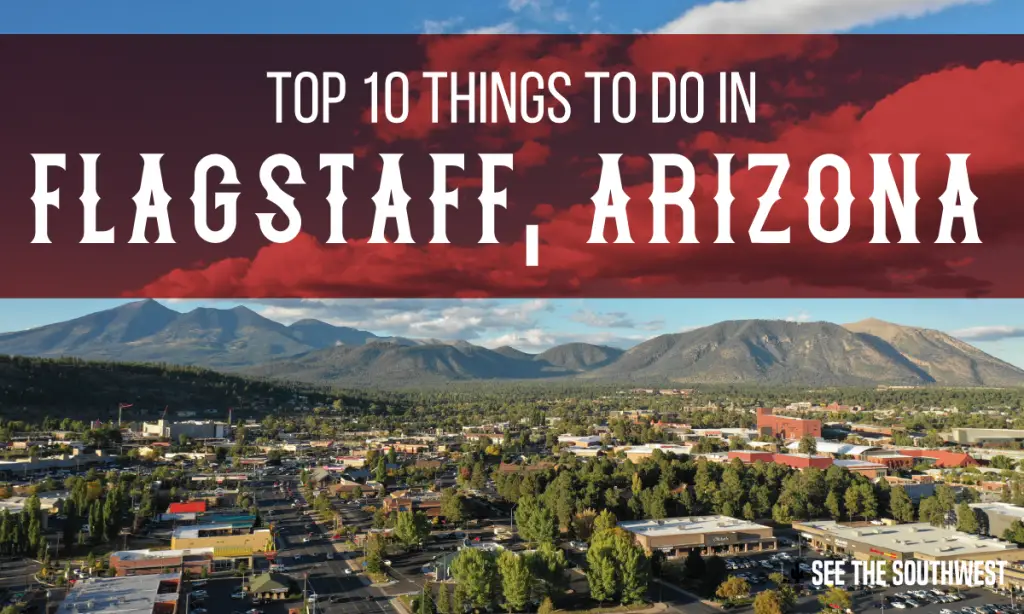 On July 4, 1876, a group of pioneers traveling West, stopped at a spring in the shadow of the San Francisco Peaks. To celebrate the centennial of the nation, they stripped the limbs from a tall pine and raised the flag. Over the years, many travelers stopped near the tall "flag-staff" … the name stuck.
Today, Flagstaff, Arizona is a thriving community with plenty of things to see and do. Here are the top picks of the SeeTheSouthwest team for things to see and do in Flagstaff.
1. The Grand Canyon
The Grand Canyon is an 80-mile drive from Flagstaff. Most people find it hard to put the beauty of the Grand Canyon into words. It's 230 miles long, 14 miles wide at its widest point and over a mile deep in places. This great gash in the earth was carved by water — the Colorado River.
http://www.nps.gov/grca/index.htm
2. Walnut Canyon National Monument
Soaring limestone cliffs in Northern Arizona shelter more than 80 small pueblo dwellings of an ancient people — the Sinagua — in what is now Walnut Canyon National Monument. Sinagua means without water, which is singularly appropriate for this particular site as there is no natural, continually flowing water source in the area. Archeologists speculate that these ancient Native Americans tucked pots under overhangs to catch water during rain storms, or allowed natural rock indentations to store water for them, as well as hauling water long distances from seasonally flowing streams.
http://www.nps.gov/waca/index.htm
3. Wupatki National Monument
Around 800 years ago, Wupatki Pueblo served as a meeting place for different cultures from the surrounding area. Located just north of Flagstaff, Arizona, Wupatki Pueblo was one of the largest, tallest and perhaps the wealthiest of its day. Today, the partially restored pueblo still stands, with its warm red stone contrasting sharply against shocking blue skies. The summit of Mt. Humphrey's, one of the four mountains sacred to the Navajo people, keeps serene watch over this ancient historic site.
http://www.nps.gov/wupa/index.htm
4. Sunset Crater Volcano National Monument
Sunset Crater Volcano was born in a series of eruptions sometime between 1040 and 1100. Powerful explosions profoundly affected the lives of local people and forever changed the landscape and ecology of the area. Lava flows and cinders still look as fresh and rugged as the day they formed.
http://www.nps.gov/sucr/index.htm
5. Museum of Northern Arizona
Immerse yourself in the culture and geology of northern Arizona at this fascinating museum. Boasting some five million items, the facility provides terrific windows into the state's prehistoric and Native American pasts. Examine handicrafts, fossil exhibits, fine art pieces, and displays on biology, botany, and anthropology. Permanent and temporary exhibits ensure there's always something new to browse, and a great gift shop sells all sorts of wonderful items to commemorate your trip to the Southwest.
6. Lowell Observatory
During the day, join a guided tour and explore the Observatory's history and current research. At night, view the heavens through a variety of telescopes including Percival Lowell's 24″ Alvan Clark refractor. Guests are also welcome to experience interactive live presentations in the mini-planetarium.
http://www.lowell.edu/
7. Hike the San Francisco Peaks
If you are a hiker, the San Francisco Peaks offer hundreds of trails. In point of fact, the peaks are the remains of the rim of an ancient volcano. Hiking trails lead to the peaks as well as to the inner basin.
For the experienced (and very in-shape) hiker, we recommend Humphrey's Peak Trail #151. The trail begins at the Snowbowl Ski Area(elev. 9,500 feet), and climbs through forests, along windswept ridges, to the summit at 12,633. On a clear day you can see a lot of northern Arizona and some of southern Utah. Summer thunderstorms can blow up quickly, so check the weather forecast before heading out.
8. Riordan Mansion Historic State Park
Built in 1904 for two Riordan families, Riordan Mansion is a remarkable example of Arts and Crafts style architecture featuring a rustic exterior of log-slab siding, volcanic stone arches, and hand-split wooden shingles. The expansive home has forty rooms, over 13,000 square-feet of living area, and servant's quarters. Tours are available by calling the Park at (928) 779-4395.
http://www.pr.state.az.us/parks/RIMA/index.html
9. Shop and Eat on Route 66
Heritage Square is located on old Route 66. It's a local gathering spot with great shops and restaurants, an outdoor amphitheater and the old Empress Theater. The Square also features a winding brick path detailing the history, biology, geology and anthropology of Flagstaff on a series of plaques, and a red brick railroad track design signifying the importance of the railroad to Flagstaff. If you get hungry, we recommend a stop at the Flagstaff Brewing Company — according to our editor, you can't go wrong with the "Stink Burger" (roasted garlic, Swiss cheese and onions). Bring your own breath mints. If you'd like a real time view of the square, check out this link http://www.flagstaffwebcam.com/web_cam.htm
10. Snowbowl 
Ski Snowbowl in the winter or take the tram in the summer. Although most people equate Arizona with warm winter weather, Flagstaff and the Snowbowl receive over 100 inches of snow each year. Of course, the ski area has its own snowmaking equipment, just in case. In the summer, visitors can take the tram to the top of the mountain for a fantastic view and some great hiking trails.
http://www.arizonasnowbowl.com/
Did You Know?
Flagstaff, Arizona, is the world's first designated International Dark Sky City. This helps to ensure dark night skies at the three national monuments located nearby — Walnut Canyon, Sunset Crater Volcano, and Wupatki.