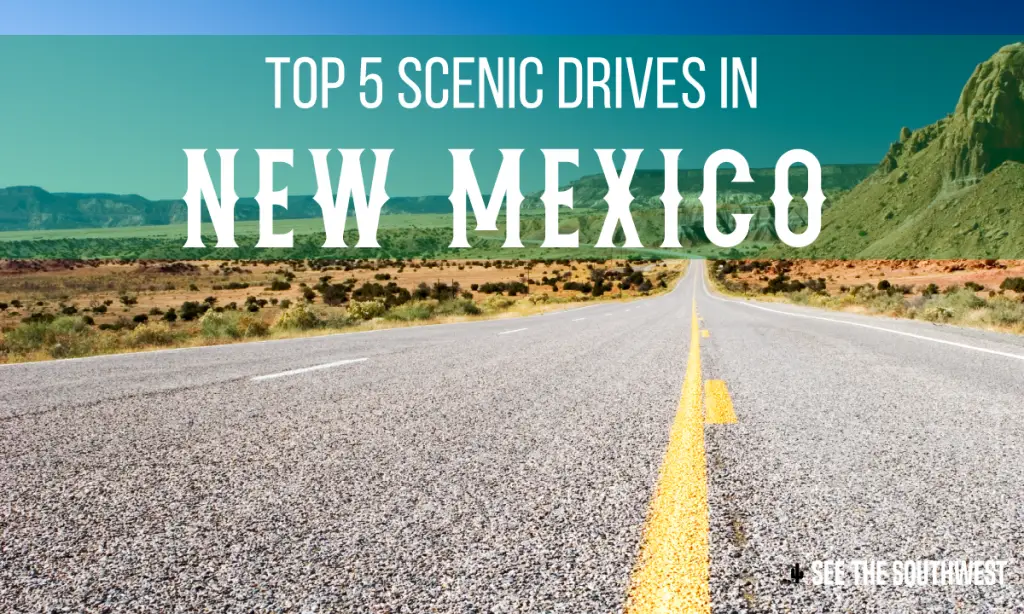 New Mexico is called The Land of Enchantment for good reason, making it doubly hard to select five of the best scenic drives in the state. See the Southwest has narrowed the choices down to our top five picks for the most gorgeous scenery anywhere.
Enchanted Circle Scenic Byway 
The Enchanted Circle Scenic Byway is a loop that connects Taos, Angel Fire, Eagle Nest, Red River and Questa and circles most of the tallest mountains in New Mexico, including Wheeler Peak, the highest point in the state. Along the way, visitors can experience old ghost towns and gold mines, Native American heritage – both past and present, great skiing in the winter and fantastic fishing in the summer, not to mention some of the most spectacular scenery in the state.
Jemez Mountain Trail
Following a winding route around Fenton Lake State Park, Jemez Mountain Trail starts in Cuba, New Mexico and ends up in Los Alamos and encompasses some of the most stunning scenery in the southwest. Visitors can stop and explore Jemez Pueblo, Jemez Springs, Valles Caldera (one of three super volcanoes located in the U.S.), and Bandelier National Monument. Along the way, there are places to hike, fish, camp, ski, and soak in a natural hot spring and much more.
Trail of the Mountain Spirits National Scenic Byway
Trail of the Mountain Spirits National Scenic Byway's starts at Silver City, New Mexico, and winds along rural roads through the Gila Wilderness, the first wilderness area to be set aside in the U.S. to help limit man's impact on the natural world. Visitor's along the byway can stop and explore Gila Cliff Dwellings Nationanument, Ft. Bayard, Gila Hot Springs, Lake Roberts and more. Opportunities abound for exploring the natural wonder and beauty of the area and include hiking, camping, fishing, nature and bird watching and much more.
High Road to Taos Byway
The High Road to Taos runs through the Sangre de Cristo Mountains between Santa Fe and Taos. The scenery is truly breathtaking along this 56-mile stretch of winding road. The Old Spanish influence is strong throughout the region, and is evident in the religion, architecture and history along the route. Visitors along the route can explore Taos, Taos Pueblo, lovely old Spanish towns and hamlets, as well as the San Francisco de Asis Mission Church.
The Turquoise Trail
The Turquoise Trail travels between Tijeras and Santa Fe, and is a much less busy route than the interstate that travels between Albuquerque and Santa Fe. Winding through the Cibola National Forest and the Sandia Mountain Wildness, the views are lovely. Visitors can stop at the revived ghost town of Madrid, and explore the lovely town of Santa Fe. This area is a wonderland for hikers, bikers and campers.