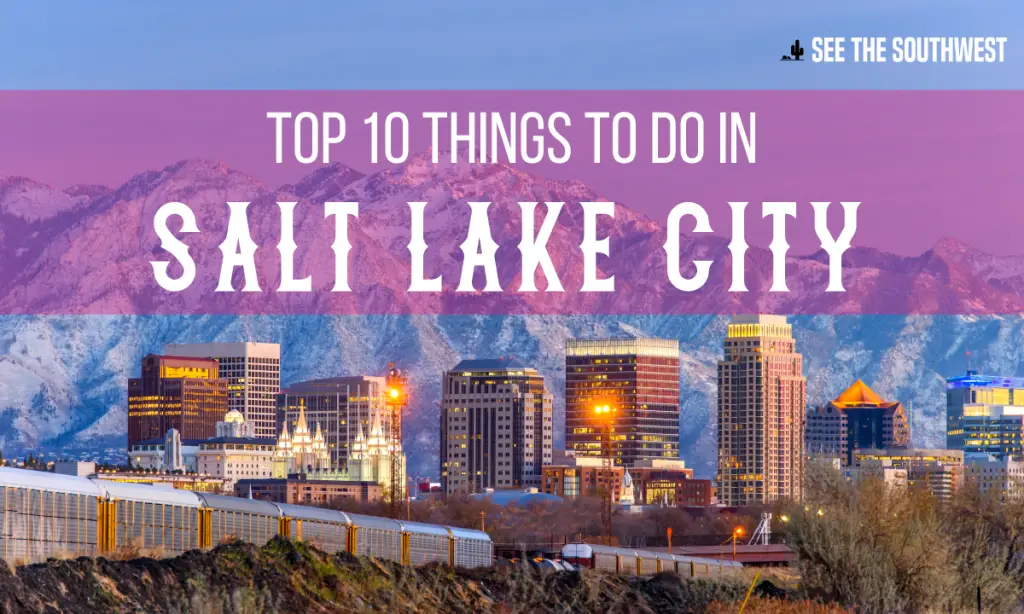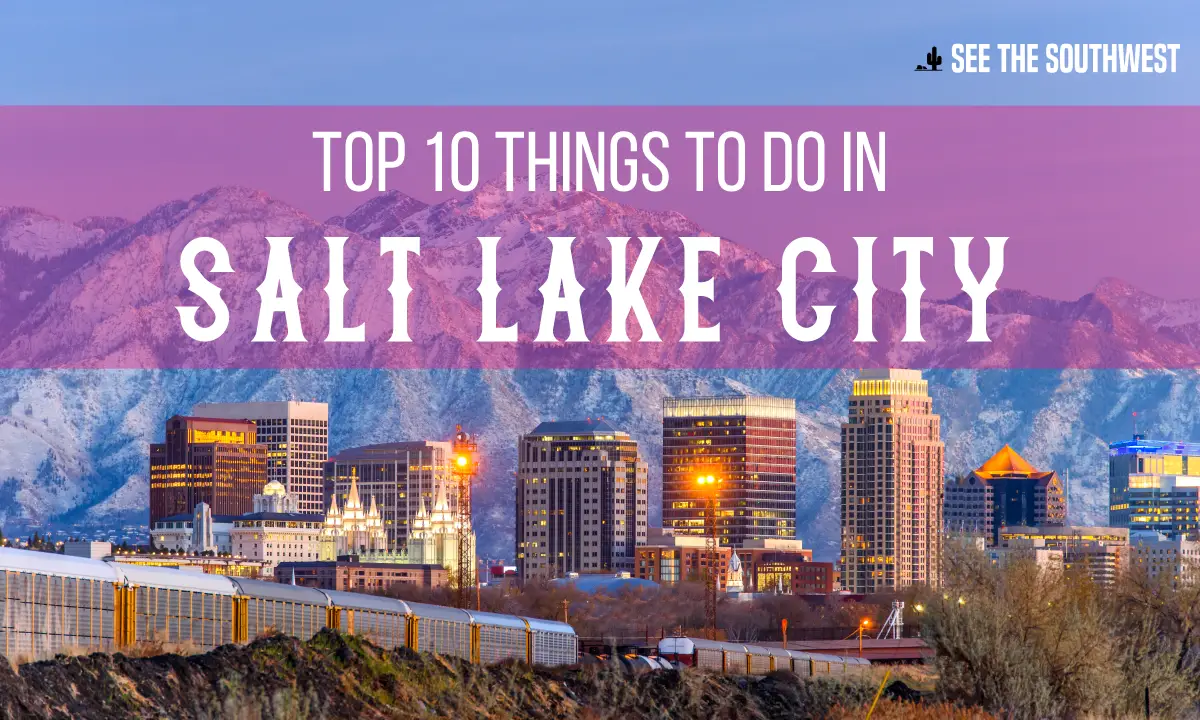 Salt Lake City was founded on July 24, 1847, by a group of Mormon pioneers. The Mormons came to the valley in search of a region where they could practice their religion, free from hostile mobs and persecution. Today, Salt Lake City is a thriving metropolis with fantastic art, culture, history and more. The city was proud to host the Olympic Winter Games in February 2002, which added even more hotel space and attractions to an already busy city. Here are SeeTheSouthwest's top 10 things to see and do when visiting Salt Lake City.
1. Temple Square
Temple Square is Salt Lake City's most popular attraction, and you could spend anywhere from an hour to a day or two visiting the square itself – with its grand six-spired temple, two visitor's centers, lovely flower gardens and fountains – and nearby sites related to the Church of Jesus Christ of Latter-Day Saints.
2. Listen to the Mormon Tabernacle Choir Sing
The Mormon Tabernacle Choir got its start in 1847. The pioneering Mormons set out across country to find a place where they could worship freely. At night, the pioneers would gather around the fire to sing hymns and this joyful practice continued once they reached their new home. Just one month after the pioneers arrives in what is now Salt Lake City, a small choir sang hymns to give thanks for a safe arrival. The first official director was appointed in 1869. Today the choir is 360 members strong. The group sings every Sunday at 9:30 a.m. in the Salt Lake Tabernacle in the off season, and in the Conference Center during the summer. They also provide a host of special concerts throughout the year.
3. Hogle Zoo
Utah's Hogle Zoo dates from 1931 and is located at the mouth of Emigration Canyon at 2600 E. Sunnyside Avenue. With its natural hillside terrain and meandering tree-covered pathways that cover 42 acres and includes more than 800 animals, this is a terrific place to explore the wonders of the natural world. Favorite exhibits include the Asian Highlands, Elephant Encounter, the Zoo Train and the Conservation Carousel.
4. Liberty Park and Tracy Aviary
Liberty Park is Salt Lake City's second largest public park and includes trails, playgrounds, a pond, paddle boat rentals, tennis courts, picnic facilities, amusement rides and a water play area. Liberty Park includes the Chase Home Museum of Folk Arts and the excellent eight-acre Tracy Aviary, one of two free-standing aviaries in the United States.
5. Bingham Canyon Copper Mine
The Kennecott Bingham Canyon Copper Mine, located at 12800 South State Route 111, is the world's largest man-made hole in the ground. The mine has produced more copper than any other mine in history. It is one of two man-made objects seen from space. The mine's visitor's center and observation area provide a fascinating view of the mine's operations. It's worth the trip just to see the mine's 80 enormous trucks, each capable of hauling 255 to 320 tons of dirt and rock in a single trip.
6. The Gateway
The Gateway on the west side of downtown Salt Lake is the city's best outdoor shopping center and a lot more, with a nice mix of upscale shops and restaurants, a twelve-screen movie theater, and two of Salt Lake's most popular museums: The Clark Planetarium and Discovery Gateway Children's Museum.
7. Big Cottonwood Canyon Scenic Byway
Big Cottonwood Canyon is located 25 miles east of Salt Lake City and journeys through the Wsatch-Cache National Forest. You'll find spectacular vistas, soaring canyons carved by powerful rivers, and lovely alpine scenery. Big Cottonwood Canyon offers hiking, biking, picnicking, rock-climbing, camping and fishing in the sumer, and skiing in the winter at Solitude and Brighton.
8. Natural History Museum of Utah
Located on 17-acres adjacent to Red Butte Garden, the Natural History Museum of Utah serves as the trailhead to Utah for residents and visitors alike. The site overlooks the Salt Lake Valley and is a part of the University of Utah's Research Park. Inside, explore everything from land, sea and air to past worlds and Utah's future.
9. Red Butte Garden
Part of the University of Utah, this scenic garden features more than 150 acres of landscaped grounds and colorful flowers complete with walking paths and hiking trails. There are many things to do here. You can wander the themed gardens, explore in the Children's Garden, see a free Sundance Institute Film on a summer night, listen to one of the free concerts, hike in the Natural Area, picnic in the Secret Garden and much more.
10. Capitol Theater
Capitol Theatre Salt Lake City is located in the heart of downtown at 50 West 200 Street. It hosts many of the premier Broadway Across America shows. Opening in 1913 and renamed in 1927 this historic Utah landmark has been offering the best performances to for almost 100 years.